4 concerten voor 3 – 5 jaar en ouders.
In Bout'chou (Frans koosnaampje voor een kind) ontmoeten muziek, dans en beelden elkaar. Hier smelten geluiden, gebaren en penseelstreken samen.
Onder leiding van danser/choreograaf Annick Pütz, beeldend kunstenaar Catherine Lorent en verschillende muzikanten gaat het publiek op ontdekkingsreis langs al wat hoorbaar, zichtbaar en voelbaar is, waarbij volop geïmproviseerd en geëxperimenteerd zal worden. Daarnaast zijn er natuurlijk momenten waar de toeschouwer lekker achterover leunt en kan genieten van de muziek. Kom echter niet in je mooiste kleren, want het spel met zand, verf en hout laat gegarandeerd zijn sporen na…
Of je je kind nu af en toe "kleine" of "bout'chou" noemt, maakt eigenlijk niet zo veel uit. In alle talen geldt, dat die momenten, die je samen met je kind deelt qua samen kijken, samen luisteren, samen iets maken, van onuitwisbaar belang blijken. En precies dat gebeurt tijdens Bout chou. Onder leiding van de makers wordt gezocht naar collectieve ogenblikken van creativiteit en experiment.
Na de editie van 2012/2013 is dit de tweede serie Bout chou, die de Philharmonie Luxembourg produceert.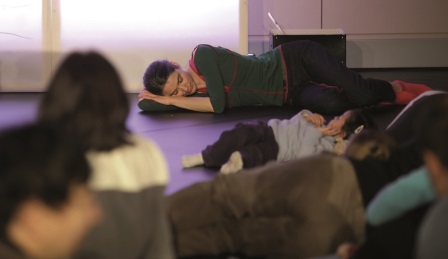 Image © Sebastien Grébille

CREDITS CAST & CREW
Musiciens
Domino Maxime Bender (saxophone et compositions), Boris Schmidt (contrabasse)
Papierparadies Nathalie Cornevin (harpeniste)
Le jour et la nuit Hanne Deneire (composition et clarinette basse), Eliot Lawson (violon)

Bout Chou Reentko Dirks (guitare)
Danse, Idée, Conception Annick Pütz
Arts Plastiques, Conception Catherine Lorent
Dramaturgie et Conseils en mise-en-scene Annechien Koerselman
Costumes Bout'chou 3 & 4 Nina Ball
Technique Mario Pawlowski - Grossmann
Image d'Affiche Krainhofner
Production Philharmonie Luxembourg en coopération avec le Musée Dräi Eechelen
SPIELPLAN
Domino Luxembourg Philharmonie (Espace Découverte), 21 september 2013 10.30uur (L) & 15.00uur (F)
Papierparadies Luxembourg Musée Dräi Eechelen (auditorium), 10 november 2013 10.30uur (L) & 15.00uur (F)
Le jour et la nuit Luxembourg Musée Dräi Eechelen (auditorium), 02 februari 2014 10.30uur (L) & 15.00uur (F)
Bout Chou Luxembourg Musée Dräi Eechelen (auditorium), 09 maart 2014 10.30uur (L) & 15.00uur (F)