or how nature came back to life
Beavers are the best builders. They build beautiful musical instruments and sturdy dams. But if the climate changes, even a beaver dam cannot cope with it.
And so it can happen that on a remarkably warm spring day, Noah and his beaver family are suddenly attacked by beastly weather. The water rises quickly, the dam breaks in half and Noah is carried thousands of miles down the stream. Only days later, when the rain stops, he manages to come ashore. And there he stands face to face with a landscape he has never seen before. There are houses everywhere, the bottom is made of stone, he hardly sees a tuft of greenery. There is waste everywhere, plastic blows through the streets, not a bird, not even an ant is to be discovered.
But Noah wouldn't be Noah if he didn't roll up his sleeves. He plants a tree. He builds a lodge. And soon more and more animals are crawling out of their hiding places to help Noah. One appears to have an idea how they could purify the dirty air musicalwise, and another how they could generate energy while dancing. Don't you want to join them?
Noah, the (almost) last Beaver is a theatrical concert about the consequences of the contemporary climate confusion and a musical search for inventive solutions to turn things around. Felix Mendelssohn-Bartholdy assists Noah with his composition the 3rd Symphony in A Mol, opus 56 ("Scottish").
Screenshot © Tonkünstler Wien
Credits Cast & Crew
Teaser © Florian Hackspiel

At the request of the Noord Nederlands Orkest (NL), Annechien is developing and directing eight videos for the online music program NNOotjes, intended for the lower primary school. Annechien let herself being inspired by the theme 4 seasons and selected based on this eight Dutch children's songs from the digital art education platform Eigenwijsnext.nl. These songs will be brought online into the classroom by singer/presenter Izaline Calister and the Noord Nederlands Orkest. The NNO thus hits two targets with one shot: both the Netherlands' oldest professional symphony orchestra creates a world of symphonic sounds at primary school and every season pupils will be taught eight well-known fresh orchestrated children's songs.
Each song has various play-along exercises (listening, singing, reflection and making music assignments) so that one can really sing along and play with the NNO. Throughout the year - appropriate to the current season - the videos will be published on the You Tube channel of the Noord Nederlands Orkest and the website of Eigen-Wijs Next.

Images seasons © Jonathan Day / Composition © Annechien Koerselman

Credits Cast & Crew
"Ich schwöre, ich wär' so gerne wieder Frisör!" (Really, I would love to become a hairdresser again!)" With Hair & Make-Up artist Jan Wagner, moderator Julia Schöning and special guest Thomas D., the WDR Funkhausorchester explores the wide world of hair - because long before the legendary "mushroom heads" of The Beatles the looks of (pop) stars have inspired and shaped entire generations. Live on stage there will be cut, blow-dried and styled. Schlagers like "Siebzehn Jahr, blondes Haar", hits from the cult musical "Hair" and "Hairspray " provide the right sound.
Image © Irina Levitskaya

Cast & Crew
Twelfh elephantastic children's concert
Bathing suits packed and diving goggles on: elephant and rabbit (Elefant & Hase) jump into the cold water. The new concert with André, Anke and the WDR Funkhausorchestra is again full of musical adventures. Dive into the depths of music and explore together the sounds of the underwater world.
Anke Engelke and André Gatzke have been discovering the world of music together with elephant and rabbit and the WDR Funkhausorchestra since 2011. Each year they focus on a different sound theme, such as the musical animal melodies in the concert Something animalistic (Tierisch was los), classic party hits in Birthdayparty (Geburtstagparty). and songs around the universe in Space. This season they will play around musicthemes under water. Under Water (Unter Wasser) is a theatrical concert for the little ones to marvel, listen and to participate.
Images © WDR / Composition © Annechien Koerselman

Credits Cast & Crew
a non-verbal, participatory music theater production for the whole family (ages 4 and up)
As a Christmas surprise for their parents, the forestchildren Vesta and Diana want to decorate a pine tree, but accidentally they turn King Winter's land upside down. Then, for his part, King Winter has to enlist the help of his fellow seasons Prince Primavera, Summerking Estate and Count Autumn Autunno to achieve another white Christmas in time. However, as benefits a good Christmas story: All's well that ends well!
Oh Tree of Wonder is a magical Christmas story with the forestchildren Vesta and Diana in the Gnome Forest! Four musicians slip into the roles of the four seasons and team up with the audience to sing classic Austrian, Portuguese and American Christmas songs as well as works by Claude Debussy, Engelbert Humperdinck and Astor Piazzolla. This participative concert is all about the non-verbal power of music. Together, performers and audience discover the techniques and functions of the orchestral instruments, hold conversations without words and enter musical competitions.
Image © Arrow Films

Credits Cast & Crew
It is winter. Hibernum, the Snow God makes a big storm. Wanja, living on the edge of the forest, decides to hit the sack early. But just as he is meeting dreamland, there is a loud knock on the door. It is a hare, frozen to the bone, which seeks shelter in this icy winter night. Not much later, a fox and finally a bear ask for help as welll. And although the natural enemies fear each other, they must promise Vanya to keep the peace under his roof that night. Will the three wild animals succeed?
Who's that knocking at my door? is a free musical theatrical stage adaptation of the eponymous famous German picture book, written by Tilde Michels. Annechien has excitingly intersected the libretto with the idiosyncratic repertoire of the Tonkuenstler Vieanna's Trombone and Marimba ensemble.

Image composition © Annechien Koerselman
Credits Cast & Crew
or where love can take us, from 5 years old

It's autumn. A storm rages through the streets and Pierrot has to sweep up the fallen leaves. Work that never bores him, because after all, his fantasy can take him everywhere. Especially when he bumps into Colombine. Their hearts both jump. This is to the dismay of her guardian Pantalon, who sees it as his task to protect his niece from all the dangers of the world. But as we all know, love is not easy to tame.
And so it becomes winter. Pierrot clears the streets of snow and decides to build a snowman in front of Colombine's house. This to her uncle's consternation. When Pantalon destroys the snowman one night, Pierrot doesn't give up. Since, isn't it so, that snowmen can dance as well?
The Snowman is a theatrical concert based on the music of child prodigy Erich Wolfgang Korngold (1897 - 1957). Both his Schauspiel-Ouvertüre (1911) and his pantomime Der Schneemann (1910) are performed by three actors and the Münchner Philharmoniker, without a single word being spoken. Annechien Koerselman based her scenario on the libretto Der Schneemann by Julius Korngold (Korngold's father) and the libretto she wrote herself for the Schauspiel-Ouvertüre.
Illustration © Sergey Lukashin

Credits Cast & Crew
or the most comical musical bank robbery of all times
Everyone knew them. Everyone knew who they were. The Brass Boys and their music were popular and everyone wanted to hear them play. But times have changed and this time they are in need. The money with which they allways created new music lacks, doom approches! If they want to continue to perform as a band they need quickly supplies.
The troop intends a plan: To provide themselves the most necessary, they intend to rob the new city bank. Tonight it should happen, the night before the opening of the bank! Will the Brassgang crack the code of the safe in time?
What music is capable of and what it does to us is the subject of this turbulent and funny musical comedy. The members of the Brass Gang are cheerful and courageous people. They dream of always making new music, and try to accomplish this goal at any cost. Well - and on the way to fulfill our most secret desires, there are always also surprises ... The story is told without words and with loads of music!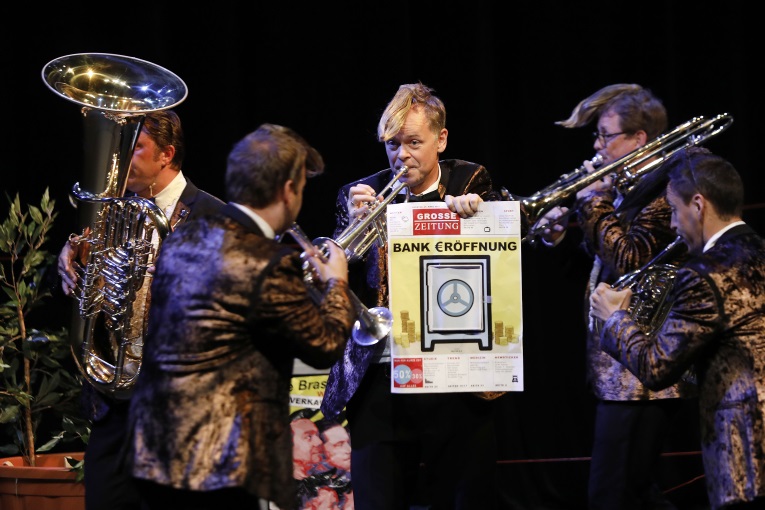 Photo © Anja Koehler

Credits Cast & Crew
Trailer © Christoph Greussing
Reviews
Kulturzeitschrift, Silvia Thurner, June 29, 2017
The content was not only through what was shown understandable, but it was also fascinating reflected in the musical performances and the music itself. Therein lay the exceptional power of the whole piece. Visual and catchy compositions formed the basis for the imaginatively told story. Stage director Annechien Koerselman and the musicians have made a striking selection.
That behind the precise well thought-out movements, the mime and acting as well as the virtuoso musical way of playing an enormous mental effort is hiding was never notable in the way the musicians were making music. Among other things, this exactly shows the mastery of the "Sonus Brass Ensemble".
The stage director Annechien Koerselman, who has developed the idea and the concept for this piece as well, translated it into coherent balanced scenes. Bravely she first gradually built the suspense, in this way she raised the expectations on what was ahead of us and the resulting joy about what then dynamically occurred.
Report The Brassgang, Austrian Premiere during The Bregenzer Festspiele. June 28th 2017
Report © Orf TVThek

100.7 Luxembourg
De Sonus Brass Ensembel 24. Mäe 2017 - 14:40
De 25. Mäerz spillt de Sonus Brass Ensembel an der Philharmonie d'Uropféierung vun hirem neie Programm "Die Verblecherbande". Et ass en inzeenéierte Concert fir Kanner, deen d'Geschicht vu fënnef Museker verzielt, déi eng Bank iwwerfalen. Dat besonnescht ass, datt d'Opféierung komplett ouni Wierder auskënnt. Wéi funktionéiert dat? A wéi eng Musek kann een sech erwaarden? De Luc Boentges hat d'Geleeënheet an eng Prouf eranzelauschteren a mat de Museker ze schwätzen.