When palace walls make themselves heard
Who does not know her: Loo, the almost 400-year-old palace of the House of Orange in the heart of Apeldoorn. But how well do you really know this diva with royal traits?
Loo is a dazzling music theater performance in which Marketing Manager Klamer and his assistant Alicia are in search of Loo's soul. They have big plans for the palace now that it has been completely renovated, refurbished and rebuilt. But Loo, played by soprano Laetitia Gerards, is an idiosyncratic lady who does not do anyone's dirty work. At least that's what she thinks, but then she doesn't know Klamer yet… As soon as Loo opens a palace door, Klamer and Alicia take a theatrical dive into her past. And this affects her own heart too. Nostalgia for days gone by, when majesties inhabited her, musicians performed in her concert hall, and she let her chandeliers shine during sumptuous dinners, makes Loo more candid and loose-lipped than one would expect from a royal palace. Does the 400-year-old lady Loo still have a future in 2022? Judge for yourself.
Loo is as comical as it is dynamic music theater, in which one gets a theatrical tour behind the scenes of Loo. The setting in which all this happens is different than usual. The hall (Rabobankzaal) of Orpheus has been converted into an audience hall for this special occasion. While the spectator is served a majestic dinner to the sounds of composers such as Händel, Mozart and Strauss jr., an exciting game between appearance and reality unfolds. There Loo, Klamer, Alicia together with an eight-member musical ensemble dust off Dutch history, almost forgotten stadholders, kings and queens present themselves, and bridges are built to the present.
Loo is Theater Orpheus' second production. These productions are based on regional stories that have a national appearance.
Photo © Sven Scholten

Credits Cast & Crew

Prepublicity
De Stentor, Ingrid Willems, April 22, 2021
In the performance I want to show the struggle of Palace Het Loo's right to exist.
[Palace] Het Loo is existing for almost four hundred years and I notice that in the west of the country where I live, hardly any attention is paid to it. While I think: Het Loo is such an important part of the Dutch identity. The Palace has grown with us for four hundred years and has gone through all the phases.
Video © Ingrid Willems/De Stentor

Apeldoorn Direct, David Levie, April 22, 2021
or how nature came back to life
Beavers are the best builders. They build beautiful musical instruments and sturdy dams. But if the climate changes, even a beaver dam cannot cope with it.
And so it can happen that on a remarkably warm spring day, Noah and his beaver family are suddenly attacked by beastly weather. The water rises quickly, the dam breaks in half and Noah is carried thousands of miles down the stream. Only days later, when the rain stops, he manages to come ashore. And there he stands face to face with a landscape he has never seen before. There are houses everywhere, the bottom is made of stone, he hardly sees a tuft of greenery. There is waste everywhere, plastic blows through the streets, not a bird, not even an ant is to be discovered.
But Noah wouldn't be Noah if he didn't roll up his sleeves. He plants a tree. He builds a lodge. And soon more and more animals are crawling out of their hiding places to help Noah. One appears to have an idea how they could purify the dirty air musicalwise, and another how they could generate energy while dancing. Don't you want to join them?
Noah, the (almost) last Beaver is a theatrical concert about the consequences of the contemporary climate confusion and a musical search for inventive solutions to turn things around.
Illustration © Eran Alboher

Credits Cast & Crew
or the most comical musical bank robbery of all times
Everyone knew them. Everyone knew who they were. The Brass Boys and their music were popular and everyone wanted to hear them play. But times have changed and this time they are in need. The money with which they allways created new music lacks, doom approches! If they want to continue to perform as a band they need quickly supplies.
The troop intends a plan: To provide themselves the most necessary, they intend to rob the new city bank. Tonight it should happen, the night before the opening of the bank! Will the Brassgang crack the code of the safe in time?
What music is capable of and what it does to us is the subject of this turbulent and funny musical comedy. The members of the Brass Gang are cheerful and courageous people. They dream of always making new music, and try to accomplish this goal at any cost. Well - and on the way to fulfill our most secret desires, there are always also surprises ... The story is told without words and with loads of music!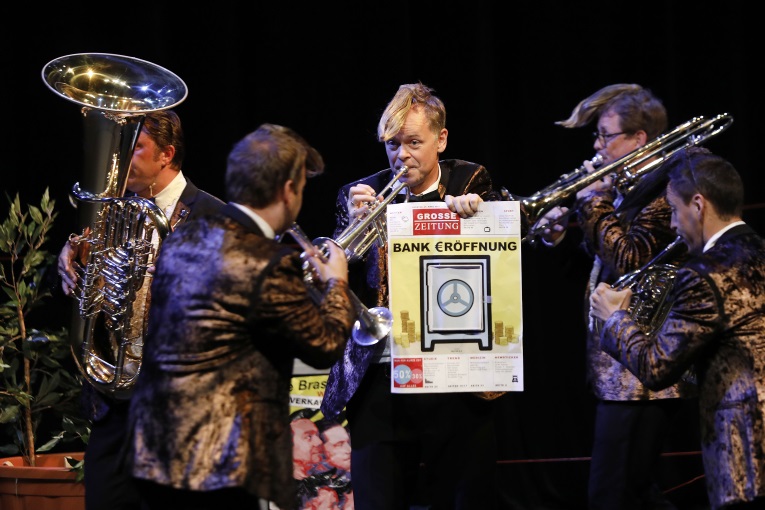 Photo © Anja Koehler

Credits Cast & Crew
Trailer © Christoph Greussing
Reviews
Kulturzeitschrift, Silvia Thurner, June 29, 2017
The content was not only through what was shown understandable, but it was also fascinating reflected in the musical performances and the music itself. Therein lay the exceptional power of the whole piece. Visual and catchy compositions formed the basis for the imaginatively told story. Stage director Annechien Koerselman and the musicians have made a striking selection.
That behind the precise well thought-out movements, the mime and acting as well as the virtuoso musical way of playing an enormous mental effort is hiding was never notable in the way the musicians were making music. Among other things, this exactly shows the mastery of the "Sonus Brass Ensemble".
The stage director Annechien Koerselman, who has developed the idea and the concept for this piece as well, translated it into coherent balanced scenes. Bravely she first gradually built the suspense, in this way she raised the expectations on what was ahead of us and the resulting joy about what then dynamically occurred.
Report The Brassgang, Austrian Premiere during The Bregenzer Festspiele. June 28th 2017
Report © Orf TVThek

100.7 Luxembourg
De Sonus Brass Ensembel 24. Mäe 2017 - 14:40
De 25. Mäerz spillt de Sonus Brass Ensembel an der Philharmonie d'Uropféierung vun hirem neie Programm "Die Verblecherbande". Et ass en inzeenéierte Concert fir Kanner, deen d'Geschicht vu fënnef Museker verzielt, déi eng Bank iwwerfalen. Dat besonnescht ass, datt d'Opféierung komplett ouni Wierder auskënnt. Wéi funktionéiert dat? A wéi eng Musek kann een sech erwaarden? De Luc Boentges hat d'Geleeënheet an eng Prouf eranzelauschteren a mat de Museker ze schwätzen.

Music theater around the music of the Roaring Twenties
Just imagine that you could travel back in time! To Paris, to the exciting time around 1920. When the cinema was invented, aircrafts ascended for the first time and creative ideas floated around like leaves in autumn. When artists from all around the world gathered in this romantic and bustling cosmopolitan city and created their finest works. Just imagine that you could mingle amongst them! The three music-making friends - an inventor, a writer and a painter - can't let go of this wishful dream. Just imagine that thanks to the time machine of the inventor they could get their hands on the long-lost composition of a world-famous Parisian composer... !
PAR!S! PAR!S! is an inspiring musictheatrical journey full of events. With the support of the audience not only the time machine will be musically operated, but also the unforgettable atmosphere that prevailed in Paris at the beginning of the last century will be brought back to life. The fascinating music of Erik Satie, Bela Bartok, Bohuslav Martinů and many others as well as the humorous play immerses the audience in this captivating time. Secretly, one hopes that it will never end!
Image © Christoph Greussing
Credits Cast & Crew
Trailer & Animation © Christoph Greussing
Reviews
Kulturzeitschrift, Silvia Thurner, June 24, 2019
Martin Deuring, Stefan Dünser, Martin Schelling and Goran Kovacevic took the listeners in the Seestudio of the Festspielhaus with an imaginative and humorous told journey back in time, in search of on a napkin written melody. At the highest level the Schurken both played dramatic and made music in the clever story told by Annechien Koerselman. The ease of the performances made it quite easy to forget what differentiated and sophisticated music held the work as a whole together.
Annechien Koerselman has written a humorous story, in which the artistic charm in Paris during the 1920s manifest itself perfectly. The musicians yearned back in earlier times. Without further hesitation they launched their time machine, which transports them back to this time and facilitates an encounter with Erik Satie himself. After a stopover in 1938, the musicians returned to the present. In between we are treated to tense conflicts of interest, humorous stories, and even two moments of fainting.
Also dramatically "Paris! Paris!" was well constructed. In between, the musicians invited the audience to participate with sounds and body percussion to time travel. So the ticking of the clock, the targeting of the spot and the noises of the different means of transportation provided a lot of variety.
With "Paris! Paris!" in the stage direction by Annechien Koerselman and the design by Nina Ball the Schurken achieved fascinating music theatre, home to an extensive content.
Vorarlberger Nachrichten, Christa Dietrich, June 23, 2019
Basel (CH), November 14, 2018
Once again, thank you for this wonderful "Paris! Paris "- performance at the Tinguely Museum in Basel! You have such a freshness, so much joy together on stage, so much beauty in your ensemble sound! And actually, this production is meant for all ages: For children it is funny, heavenly and so very much alive; for professional musicians your music is full of clever moments and inside jokes and great interaction! (I have not the right word ...) My face hurt from smiling ... When I came home on Wednesday night I could only speak of your performance! It was just great. All musicians should see you!
Hopkinson Smith ( International star lutenist)
Premiere February 16, 2020, Batavierhuis, Rotterdam (NE)

Is jazz music too? The response from Eve Gauthier, on who fictitiously the spotlights will shine in the theatrical concert by Duo IJlstra-García, would have been a resounding "yes". But not everyone agreed with her, as was revealed on November 1, 1923 when she presented her concert "Recital of Ancient and Modern Music for Voice". In that infamous concert she combined classical repertoire with contemporary jazz compositions by a.o. George Gershwin. The musical establishment was in an uproar over this. Jazzmusic was suitable for dancing, but not to be presented in a concert. That was 1923. But what is our opinion about this in the year 2020? Duo IJlstra García starts a musicaltheatrical research.
In the theatrical concert Is Jazz music too? the duo combines the diverse repertoire which was introduced by that Eve Gauthier with imaginary letters written by playwirght Corinne Heyrman. Stage director Annechien Koerselman then forges it all into a tasteful whole, letting Femke IJlstra and Celia García-García sometimes play the role of Eva Gauthier sometimes of the famous composers Ravel, Gershwin and Stravinksy. Three men who flew off like bees to the High Priestress of the Modern Song. In line with Eve Gauthier this concert different than other. No chat to music. But one in which the audience is automatically led back into the world of the past, which resembles suspiciously the world of today.
Illustration © Elline Jetten

Credits Cast & Crew

Promotional video © Bart Buerman (Bart at Work) serving the Crowdfundingaction on Voordekunst

swinging music theatre for the age of 4+
Home Sweet Home. Everybody knows the feeling, everybody needs it. But when do you actually feel at home? What provides such familiar feeling? What sounds, what scents, which stuff, which friends do resonate this? How big or how small should your house be? Do you invite other beasts in there? During the creation of their shared new house the forest bird, the raccoon and the tortoise have to cope with all those questions. And while they discover that sometimes the home for the one beast doesn't fit for the other beast, they learn at the same time the power of being and working together.
Previously the windwoodtrio Dividivi3 developed i.c.w. stage director Annechien Koerselman When Witches put a spell (4+) about three musical witches. In Jungleboogy, again music will be the only spoken language and humor will not be shunned. During their musical adventure "the beasts" will play compositions by a.o. Schnittke, Piazzolla and Haydn.
Foto © Bas Oosterwal
Credits Cast & Crew
Flute & Acting Rieneke Brink (Dividivi3)
English horn, Oboe & Acting Paloma de Beer (Dividivi3)
(Bass)Clarinet & Acting Ilse Eijsink (Dividivi3)
Stage direction & Script Annechien Koerselman
Set- & Costumedesign Anne Ammerlaan
Musicaldramaturgy Dividivi3 & Annechien Koerselman
Production & Organisation Dividivi3 & Grachtenfestival Amsterdam
PERFORMANCES
2021
Amsterdam MidWest October 18, 2021 14.00 & 16.00h
Amsterdam Basisschool de Polsstok October 25, 2021 schoolperformance
2020
Oranjewoud Oranjewoudfestival June 01, 2020 11.15, 13.30 & 16.25h
2019
Amsterdam Het Grachtenfestival Mariotteplein (East) 10th of August 2019 12 & 14 h (free entrance)
Amsterdam Het Grachtenfestival Kindergarden Stadstimmertuinen (Centrum) 11th of August 2019 11 & 13 h (free entrance)
Amsterdam Het Grachtenfestival Ecuplein (New-West) 14th of August 2019 13 & 15 h (free entrance)
Amsterdam Het Grachtenfestival Plein 40/45 (New-West) 17th of August 2019 12 & 14 h (free entrance)
Trailer © Nander Cirkel/Het Grachtenfestival Amsterdam

a non-verbal, participatory music theater production for the whole family (ages 4 and up)
As a Christmas surprise for their parents, the forestchildren Vesta and Diana want to decorate a pine tree, but accidentally they turn King Winter's land upside down. Then, for his part, King Winter has to enlist the help of his fellow seasons Prince Primavera, Summerking Estate and Count Autumn Autunno to achieve another white Christmas in time. However, as benefits a good Christmas story: All's well that ends well!
Oh Tree of Wonder is a magical Christmas story with the forestchildren Vesta and Diana in the Gnome Forest! Four musicians slip into the roles of the four seasons and team up with the audience to sing classic Austrian, Portuguese and American Christmas songs as well as works by Claude Debussy, Engelbert Humperdinck and Astor Piazzolla. This participative concert is all about the non-verbal power of music. Together, performers and audience discover the techniques and functions of the orchestral instruments, hold conversations without words and enter musical competitions.
Image © Arrow Films

Credits Cast & Crew
It is winter. Hibernum, the Snow God makes a big storm. Wanja, living on the edge of the forest, decides to hit the sack early. But just as he is meeting dreamland, there is a loud knock on the door. It is a hare, frozen to the bone, which seeks shelter in this icy winter night. Not much later, a fox and finally a bear ask for help as welll. And although the natural enemies fear each other, they must promise Vanya to keep the peace under his roof that night. Will the three wild animals succeed?
Who's that knocking at my door? is a free musical theatrical stage adaptation of the eponymous famous German picture book, written by Tilde Michels. Annechien has excitingly intersected the libretto with the idiosyncratic repertoire of the Tonkuenstler Vieanna's Trombone and Marimba ensemble.

Image composition © Annechien Koerselman
Credits Cast & Crew
Cora Burggraaf and the inner voice of Elsa Diepenbrock
Inner Voice is a musical portrayal of a woman who, for a long time, let her own voice grow silent. As the wife of the famous composer Alphons Diepenbrock, who was the constant centre of attention, Elsa Diepenbrock gradually fell silent. Despite helping other people find their voice as a stammer specialist and being able to easily address large groups of people in three languages, her own voice faltered. Little by little, fearlessness turned into timidness.
To Elsa, music was life, so she would sing in her head. Cora Burggraaf dives into her world and lends Elsa her voice. Their voices complement each other. Inner Voice is a tale of recognition, in which music by, among others, Alphons Diepenbrock, Gustav Mahler, Richard Wagner, Anna Cramer, Georges Bizet plays a role. As you walk through Ecokathedraal, you listen to Elsa's musical and personal world through headphones. The use of binaural sound techniques makes it seem as if the voices and music are inside your head. This allows you to almost physically experience the inner worlds of Elsa and Cora, and hopefully also your own. But make no mistake: at some point, this inner voice becomes an outer voice, very much alive …
The performance is based on the novel Cécile and Elsa, combative ladies by Elisabeth Leijnse.

Image © Larisa Wiegant
Credits Cast & Crew