Details

Category: THE BRASSGANG
or the most comical musical bank robbery of all times
Premiere March 25, 2017, Philharmonie Luxembourg
Everyone knew them. Everyone knew who they were. The Brass Boys and their music were popular and everyone wanted to hear them play. But times have changed and this time they are in need. The money with which they allways created new music lacks, doom approches! If they want to continue to perform as a band they need quickly supplies.
The troop intends a plan: To provide themselves the most necessary, they intend to rob the new city bank. Tonight it should happen, the night before the opening of the bank! Will the Brassgang crack the code of the safe in time?
What music is capable of and what it does to us is the subject of this turbulent and funny musical comedy. The members of the Brass Gang are cheerful and courageous people. They dream of always making new music, and try to accomplish this goal at any cost. Well - and on the way to fulfill our most secret desires, there are always also surprises ... The story is told without words and with loads of music!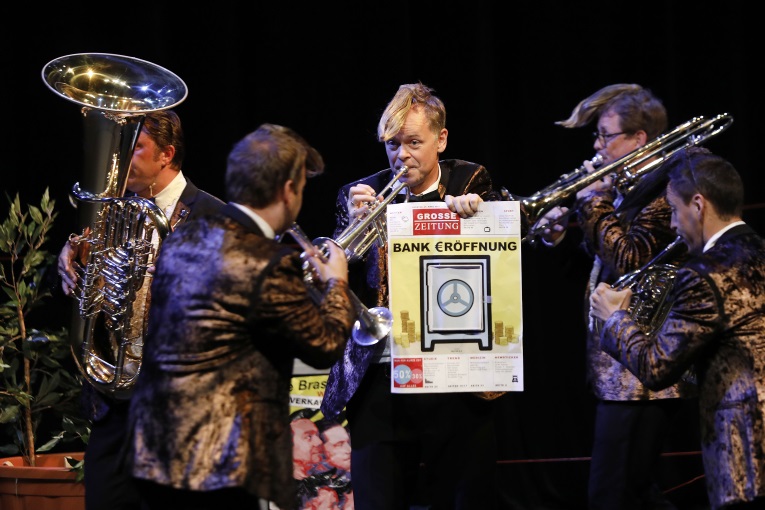 Photo © Anja Koehler

Credits Cast & Crew
Details

Category: THE BRASSGANG
Reviews
Kulturzeitschrift, Silvia Thurner, June 29, 2017
The content was not only through what was shown understandable, but it was also fascinating reflected in the musical performances and the music itself. Therein lay the exceptional power of the whole piece. Visual and catchy compositions formed the basis for the imaginatively told story. Stage director Annechien Koerselman and the musicians have made a striking selection.
That behind the precise well thought-out movements, the mime and acting as well as the virtuoso musical way of playing an enormous mental effort is hiding was never notable in the way the musicians were making music. Among other things, this exactly shows the mastery of the "Sonus Brass Ensemble".
The stage director Annechien Koerselman, who has developed the idea and the concept for this piece as well, translated it into coherent balanced scenes. Bravely she first gradually built the suspense, in this way she raised the expectations on what was ahead of us and the resulting joy about what then dynamically occurred.