or the most comical musical bank robbery of all times
Premiere March 25, 2017, Philharmonie Luxembourg
Everyone knew them. Everyone knew who they were. The Brass Boys and their music were popular and everyone wanted to hear them play. But times have changed and this time they are in need. The money with which they allways created new music lacks, doom approches! If they want to continue to perform as a band they need quickly supplies.
The troop intends a plan: To provide themselves the most necessary, they intend to rob the new city bank. Tonight it should happen, the night before the opening of the bank! Will the Brassgang crack the code of the safe in time?
What music is capable of and what it does to us is the subject of this turbulent and funny musical comedy. The members of the Brass Gang are cheerful and courageous people. They dream of always making new music, and try to accomplish this goal at any cost. Well - and on the way to fulfill our most secret desires, there are always also surprises ... The story is told without words and with loads of music!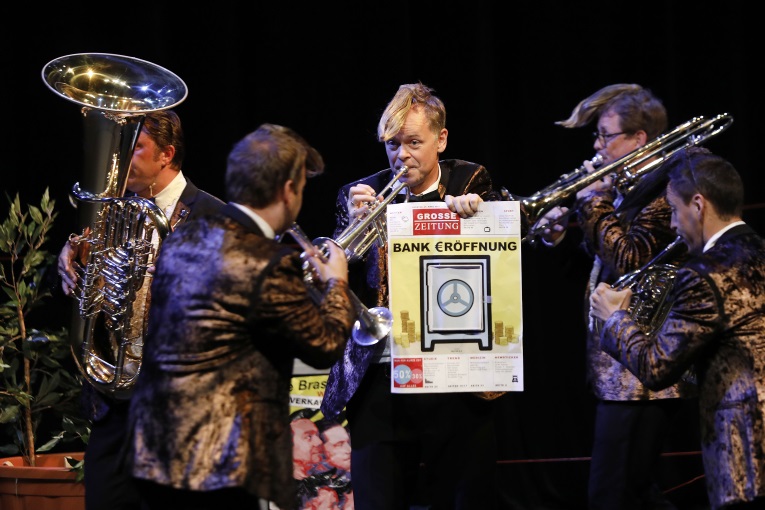 Photo © Anja Koehler

Credits Cast & Crew
Sonus Brass Ensemble:
Trumpet, Acting Stefan Dünser
Trumpet, Acting Attila Krako
Horn, Acting Andreas Schuchter (till January 2020) / Zoltan Holb (form March 2020)
Trombone, Acting Wolfgang Bilgeri (till January 2020) / Jan Höhle (from March 2020)
Tuba, Acting Harald Schele
Idea, Concept, Stage direction Annechien Koerselman
Set- & Costumedesign Nina Ball
Lightdesign Nina Ball & Annechien Koerselman
Assistant Director Clara Schürle
Production & Organisation Sonus Brass Ensemble, Götzis (Austria)
in co-production with Philharmonie Luxembourg, Lucerne Festival, KölnMusik, Bregenzer Festspiele and Wien Jeunesse
Performances
2022
Köln (D) Kölner Philharmonie February 20, 2022 11.00 & 13.30h
Ludwigsburg (D) December 01, 2022 11.00 & 16.00h
2021
Luxembourg (L) Philharmonie June 02, 2021 10.00, 15.00 & 17.00h cancelled due to Covid 19
Luxembourg (L) Philharmonie June 05, 2021 16.00h
Luxembourg (L) Philharmonie June 06, 2021 10.00, 15.00 & 17.00h cancelled due to Covid 19
Friedrichshafen (D) Bahnhof Fischbach July 02, 2021 10.00 & 16.00h
2020
Berlin (D) Konzerthaus January 12, 2020 11.00 & 15.00h
Dessau (D) DB Fahrzeuginstandhaltung Werk March 08, 2020 11.00h
Friedrichshafen (D) Bahnhof Fischbach March 27 2020 10.00h - postponed due to COVID 19
Cologne (D) Kölner Philharmonie June 07, 2020 11.00h - postponed due to COVID 19
Wotersen (D) Reithalle August 16, 2020 13.30h - postponed due to COVID 19
2019
Dornbirn (AT) Spielboden February 22, 2019 9.00h Jeunesse
Dornbirn (AT) Spielboden February 23, 2019 15.00h Jeunesse
Eisenstadt (AT) Wirtschaftskammer March 20, 2019 09.00h Jeunesse
Weis (AT) Stadttheater March 21, 2019 09.00U Jeunesse
Ried im Innkreis (AT) Stadtsaal March 22, 2019 09.30h Jeunesse
Innsbruck (AT) Treibhaus March 24, 2019 16.30h Jeunesse
Innsbruck (AT) TreibhausMarch 24 2019 10.30h Jeunesse
Schwaz (AT) SZentrum March 25, 2019 10.30h Jeunesse
2018
Basel (CH) Gare du Nord January 21, 2018
Freiburg (D) July 01, 2018 14.15h (Klong 9, Freiburger Kindermusikfest)
Feldkirch (AT) September 25, 2018 09.00 & 10.30H
Kernen im Renstal (D) Glokkenkeller Stetten October 06, 2018
Schwäbisch-Gmünd (D) Kulturzentrum October 07, 2018
Hamburg (D) Die Elbphilharmonie November 10, 2018 11.00h & 14.00h
Hamburg (D) Die Elbphilharmonie November 11, 2018 11.00h & 14.00h
Hamburg (D) Die Elbphilharmonie November 12, 2018 09.30h & 11.30h
2017
Luxembourg (L) Philharmonie March 25, 2017 11.00h & 16.00h Premiere
Luxembourg (L) Philharmonie March 26, 2017 11.00h & 15.00h & 17.00h
Luxembourg (L) Philharmonie March 27, 2017 08.45h & 10.30h
Luxembourg (L) Philharmonie April 01, 2017 11.00h & 15.00h & 17.00h
Luxembourg (L) Philharmonie April 02, 2017 11.00h & 15.00h & 17.00h
Wien (AT) Wiener Konzerthaus April 29, 2017 11.00h & 15.00h & 17.00h (Wien Jeunesse)
Wien (AT) Wiener Konzerthaus April 30, 2017 11.00h & 15.00h & 17.00h
Frankfurt (D) Alte Oper June 02, 2017 09.30h & & 11.00h & 16.00h
Bregenz (AT) Seestudio des Festspielhauses June 28, 2017 09.30h (Bregenzer Festspiele)
Bregenz (AT) Seestudio des Festspielhauses June 29, 2017 09.30h & 10.30h (Bregenzer Festspiele)
Bregenz (AT) Seestudio des Festspielhauses June 30, 2017 09.00h (Bregenzer Festspiele)
Bregenz (AT) Seestudio des Festspielhauses July 01, 2017 10.30h (Bregenzer Festspiele)
Luzern (CH)Lucerne Festival Südpol Augustus 30, 2017 9.00h & 10.30h (Lucerne Festival)
Luzern (CH)Lucerne Festival KKL August 30, 2017 18.20h (Lucerne Festival)
Luzern (CH)Lucerne Festival Südpol August 31, 2017 9.00h & 10.30h & 14.00h (Lucerne Festival)
Luzern (CH) Lucerne Festival Südpol September 01, 2017 9.00h & 10.30h & 14.00h (Lucerne Festival)
Luzern (CH) Lucerne Festival Südpol September 02, 2017 11.00h & 15.00h & 17.00h (Lucerne Festival)
Köln (D )Kölner Philharmonie November 05, 2017 11.00h
Foto © Anja Koehler